Why Piano Classes for Kids
As a parent, you are likely looking for ways to encourage your children to pursue learning in a creative and fun way. After all, you want what is best for them. If your child has shown an interest in learning how to play the piano, you shouldn't sway them against it. While learning any instrument can be difficult, it is one of the most rewarding things you can give your child. In fact, there are many benefits of learning how to play an instrument like the piano.
What Are The Benefits Of Piano Classes For Kids?
Many assume that you have to be older and capable of reading in order to begin to learn how to play the piano. Neither of these things is true. While a lot of traditional classes do tailor subject matter and learning style to older kids and adults, younger kids are perfectly capable of learning how to play the piano. There are numerous benefits that young kids can get from piano classes for kids.
Benefits Of Music Lessons and Piano Classes For Kids:

Improved Mental Development
One amazing benefit that can be gained from having your kids take a piano class would be improving their mental development. In order to play music, various portions of the brain get stimulated. After all, playing the piano and other instruments requires multiple things to be done at once which can increase the amount of brainpower used. Studies have shown that learning to play piano during childhood can lead to long-lasting benefits including defense against memory loss, decreased risk of cognitive decline, and more. The many hours that you spend learning to play muss and playing music can all be contributing factors to having enhanced brain development that doesn't really show itself until later in life [1].
Improves Your Children's Intellectual Development
Believe it or not, but music lessons have been shown to enhance IQ in younger children. While the study was conducted on 6-year-old kids, it did showcase that children have an enhanced benefit from learning how to play an instrument. The main reason for the cognitive improvement likely stems from the kids being young enough when the brain's development is highly sensitive to environmental influence [2]. As referenced in the same document, music lessons have been shown to promote better intellectual development.
Improve Their Self Esteem
Another major benefit that can come from your children enrolling in and taking piano classes for kids would be the ability to improve their self-esteem. This can happen in various ways. For one, simply learning and mastering a song is going to put them in a position where they feel a sense of achievement. Anytime a child is capable of achieving something, you will notice increased confidence which can subsequently raise their self-esteem levels.
Improve Their Focus
In order to learn how to play any instrument, especially a piano, your child will need to learn how to focus. After all, it requires pretty much all of their focus and brainpower to learn a song. Because playing the piano requires so much coordination and attention to detail, it can be a great way to help enhance their ability to focus and to improve their attention spans. All of this can yield good results when it comes to the child learning how to develop patience, as well.
Develop Better Social Abilities
Learning to play the piano is not only going to improve a child's intellectual ability, but it can also improve their social abilities including language skills. Studies have shown that music training, like piano learning, can enhance language skills through improving young kid's abilities to distinguish various pitches that they may not normally be able to [3]. This contributes to an enhanced ability to distinguish different words. In fact, music lessons offer so many unique benefits to younger children that they are arguably more beneficial than offering reading lessons for kids.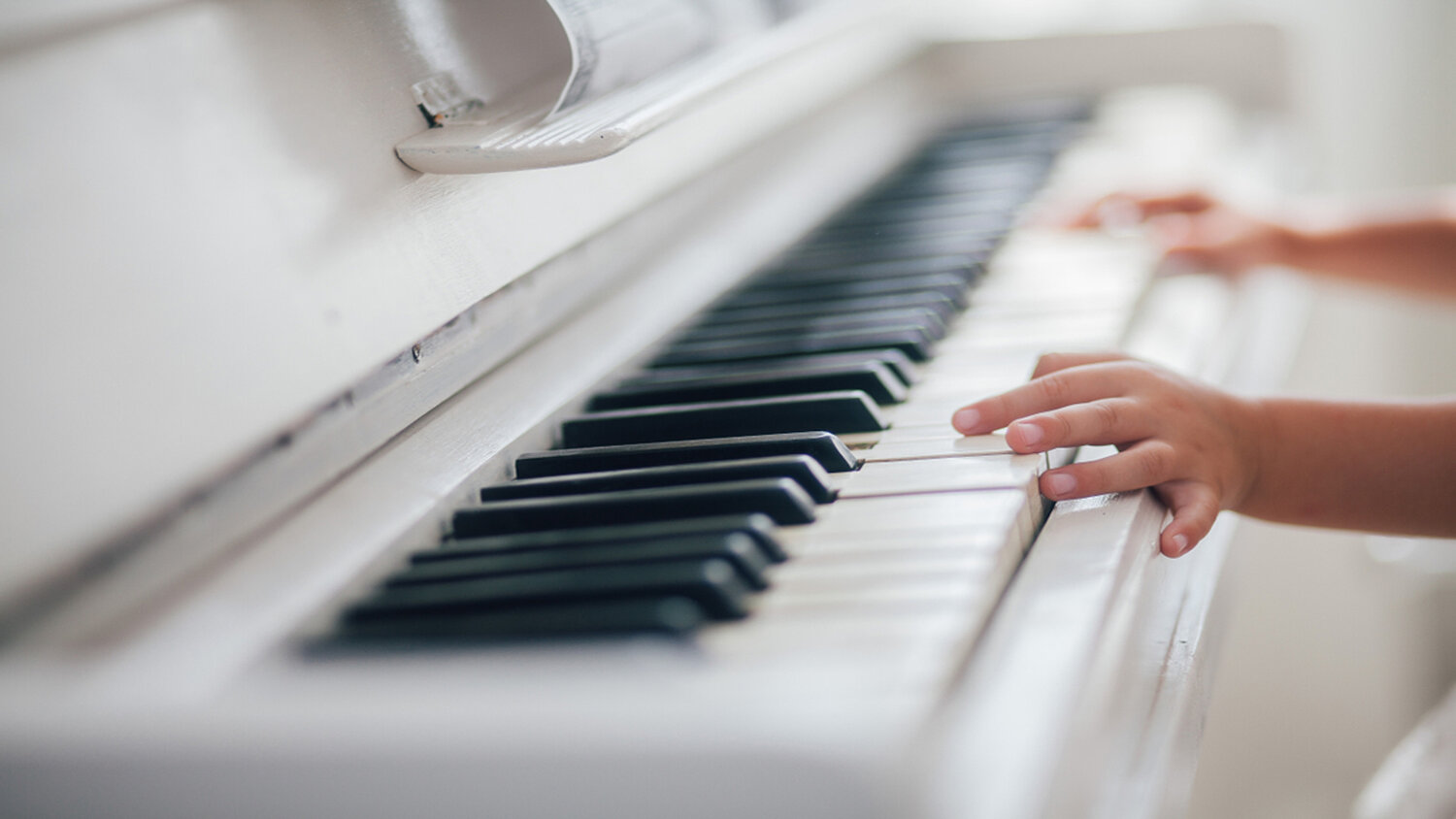 Where Can I Find Piano Classes Near Me?
Luckily, with Pianokid's music lessons online, you don't have to worry about typing in "music lessons near me" or anything else into the search engines. The fact is, finding music lessons nearby can be a struggle. This is especially true if you are seeking lessons for piano for kids. After all, a lot of the classes and lessons you will find readily available aren't targeting kids that are from ages 3 to 6. Instead, they are going after much older kids because there isn't as high of a demand for it. With Pianokids, you don't have to worry about scouring the internet in search of the ideal class or finding a piano teacher that is up to the task of teaching piano lessons for 3 years old. Instead, you are getting a fully designed piano course completely online to keep your younger kids engaged with piano learning throughout.
What To Look For In Piano Classes For Beginners?
When it comes to learning the piano with Pianokids, there is no requisite experience required. In fact, your kids will be able to enroll and begin learning how to play the piano as early as 3 years old. They don't even have to know how to read! Many parents assume that your kids will have to know how to read to begin piano classes for kids. While this may be true for other courses, Pianokids was designed specifically for kids who are unable to read. Meaning, you don't have to let this hold you back from allowing your kids to experience the many benefits of learning how to play the piano and getting involved with music.
Piano Lessons 4 Year Old Near Me
As mentioned, Pianokids is designed for kids from ages 3 to 6. Therefore, your kids will be able to participate in the highly engaging and informative piano course at the earliest possible age. This can open up the doors to helping your younger kids learn how to use their brains and boost their confidence which is sure to help them as they continue throughout their lives.

Finding A Piano Teacher For Piano Classes For Kids
With Pianokids, you don't have to worry about finding your own piano teacher. The program comes with a virtual piano teacher, Ms. Erin. The antiquated task of having to find a piano teacher nearby or piano classes near me is over. We changed everything when we created our soon to be released music home school available completely online. We know how difficult it can be for busy parents of young children to find the time needed to have a piano teacher come over or even to schedule an off-site lesson. We embrace the challenge and removed all of these inconveniences from the process by creating a comprehensive and engaging piano curriculum for children delivered completely online. This removes all of the unnecessary logistics that are typically involved with finding a piano teacher or class nearby. You and your child will be able to partake in the learning program with music lessons online.
How To Teach A Child To Play Piano?
The truth is, learning to play the piano is a very difficult task. This is true even for older kids and adults. Therefore, you can only imagine how difficult it can be for kids. What makes it even more difficult is the lack of classes and programs available specifically for kids. If you've ever stepped into a Kindergarten class, you are likely well aware there are major differences between kids that are 3 to 6 than say a 8-year-old kid. Many programs and classes are designed with older kids in mind. To teach a younger child anything, the material needs to be different. Not only does it need to be engaging, but it also needs to encourage hands-on learning. It also needs to be reward-based and feature interactive elements that can really get the children interested in learning. By making things fun and rewarding, you can encourage kids to continue and to be engaged throughout. Also, keeping lessons short yet effective is key.
These are all of the things you get when you sign up for Pianokids. Since 1989, Ms. Angela has been thinking about ways to design courses for younger kids. She opened up a private studio to fulfill her dream of teaching young children how to play the piano. Due to the widespread success of the program she developed, she was encouraged to open up the same proven teaching method to people outside of the Northwest Florida area. Thus, the online Pianokids Program launching in August was born.
Are You Ready For Piano Lessons For Kids?
If so, you should consider signing up right now. Early enrollment is still open for shipment in August. With Pianokids Program's Early Enrollment offer, you will get the Pianokids Fun Lesson bag, 4 curriculum student books, parent lesson plans, flashcards, crayons, and markers with some other little goodies. We know how important music can be to the growth and development of children. Because of this, we have made it our mission to make piano learning available to kids who wouldn't normally be able to experience the gift of learning. This, combined with our innovative approach to delivering online music learning has allowed us to cut the cost of piano learning to affordable levels for everyone.
References:
[1] https://www.nationalgeographic.com/news/2014/1/140103-music-lessons-brain-aging-cognitive-neuroscience/
[2] https://www.utm.utoronto.ca/~w3psygs/MusicLessons.pdf
[3] https://www.sciencedaily.com/releases/2018/06/180625192827.htm