Reasons for Having Professional Music Lessons for Kids
Music is 'food' for the soul. It really has the power of transforming lives and travels across all ages and genders. One of the greatest musical instruments with the power of touching the soul and mind is the piano. Given the power of music, why not give your child piano lessons? Children at a young age have the capacity to grow and retain information way better than an adult. Who knows, your child may be the next Elton John. So why not consider putting your child in music lessons for kids?
What are the benefits of music lessons for kids?
Every parent believes that their kids are meant for something more. If and when you notice your child has a passion for music, why not consider getting them into music lessons for kids? Your child learning an instrument can prove to be a fun activity, but are you aware that it can assist in the development of essential life skills as well as boost their overall performance at school?
Some of the benefits you stand to gain from music lessons for preschoolers include:
Building Their Confidence
The first few lessons are always a struggle and challenge in itself. Not striking the right keys, not hitting notes, and playing out of tune can test anybody's patience. But learning to accept the criticism and overcoming those obstacles are cornerstones to success in life. Having the tenacity to continue playing the musical instrument and improving are what build the self-confidence of the child. After the constant frustrations of not getting it right, finally making progress gives way for relaxation, smiles, and having fun. Studies have shown that kids participating in the arts and music boost their confidence and self-esteem since it helps them enjoy improvement and appreciate the praise.
Boosts Brain Power
If your child's academic achievements could use somewhat of a boost, you may want to consider looking for music lessons for kids near me and swap the gaming console with a musical instrument. Research suggests that taking music lessons for kids stimulates brain sections linked to cognitive abilities, which can give your kid an edge at school.
Statistics have shown that there's a direct correlation between scholastic achievement and playing music. Published studies documenting the advantages that music lessons can have on the brain development of a child include:
-Improved literacy and memory
-Blood flow
-Continued brain plasticity
-Connects the different sections of the brain
Boost Social Skills
Music is the best way of connecting different people, and it's no different when it comes to building the social skills of your child. Being in a music lesson with the same teachers and 'homework' can encourage interaction, leading to cohesion. Your child playing the piano can be a great mood regulator and help foster his or her sense of belonging and community.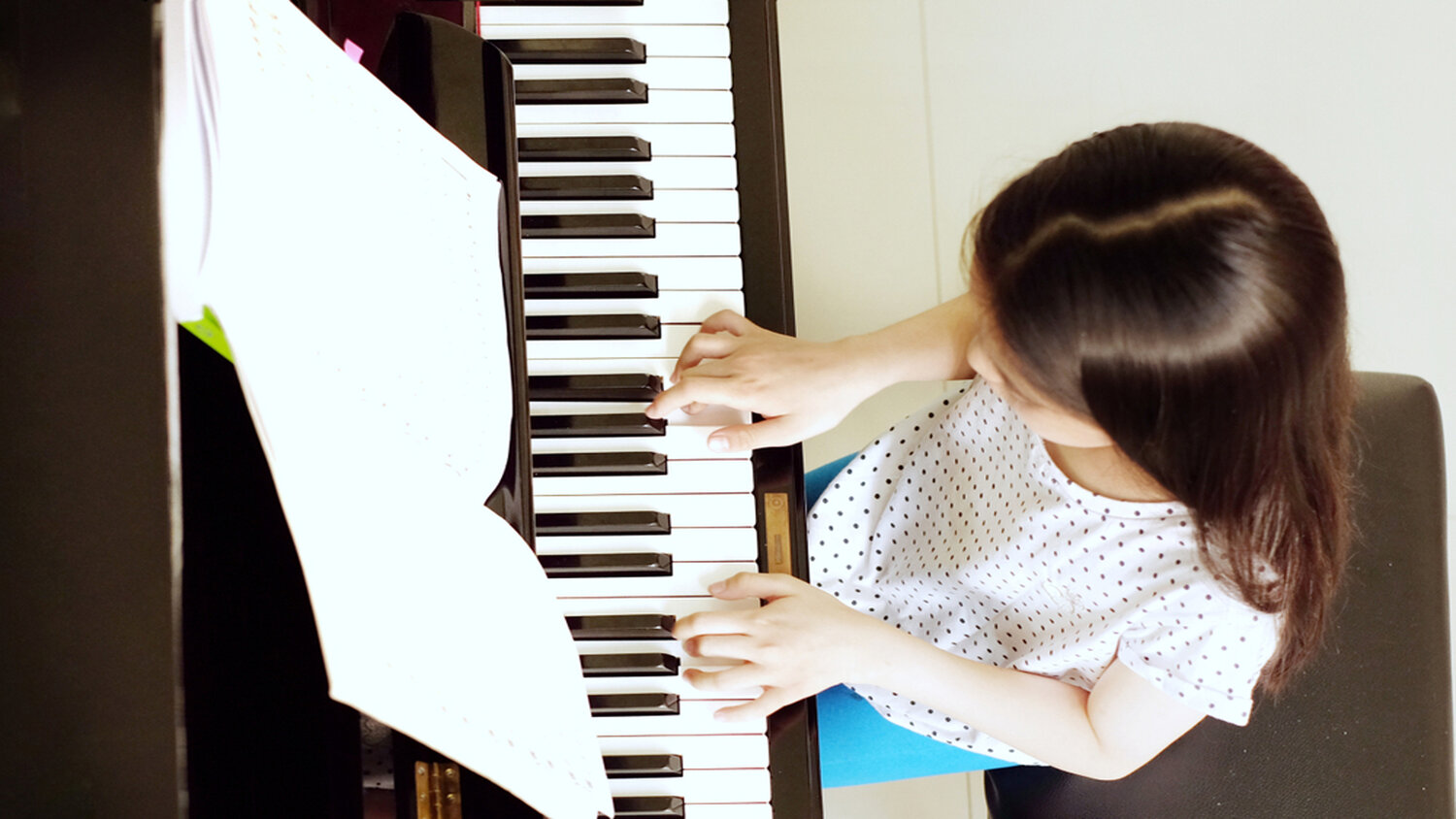 Cultivates Patience And Discipline
With the increased popularity of social media, smartphones, and interconnectedness, there has never been a lack of discipline and patience in history. This generation is spoiled, and you can see many children already hooked with getting instant gratification. With the world at the palm of their tiny hands, if you aren't careful, that habit may soon grow into a bad one.
The upside is that there's no shortcut when it comes to playing an instrument. It will need effort and time for one to be proficient. Your child will learn perseverance and patience without even realizing it. To become competent, they will have to devote their time to home practice and lessons, which will need focused attention and discipline.
Encourage Creative Self-Expression
Music has no bounds since its an art form. Playing the piano is a good way to self-express and assist in bringing out the creative side of your child. Depending on the devotion and desire of the student, their creativity in how they self-express may vary. Piano music is therapeutic and can help alleviate stress, which can be especially beneficial for kids with mental health problems and developmental disorders. Music therapy has proven to have a significant impact on children with learning disabilities, autism spectrum disorders, mental retardation, Williams Syndrome, Rett Syndrome, cerebral palsy, and attachment disorders.
Improve Memory
Learning to play the piano will require the student to memorize a tremendous amount of info, be it how chords are created, notes, and their location on the piano or the timing needed for the piano to play their favorite song. Piano music will need the brain to expand its memory capacity to a different level. As the child grows, their brain will accommodate the different types of music they will be learning and apply it to anything they experience along the way. This will boost your child's learning ability since it will assist in developing their long-term and short-term memory.
To get expert piano lessons near me that harnesses the full potential of music in your youngster, make sure to call us at Pianokids.
Where can I find music lessons for kids?
If you are unsure where you will find professional piano lessons for kids near me or early childhood music classes near me, look no further than Pianokids. You can trust that we will nurture the talent of your little one. We are indeed your best solution if you are looking for music lessons for your kids. So feel free to get in touch with us.
How Our Music Lessons Online Program Works
Rather than going for traditional lessons to teach your kid how to play the piano, why not enroll in our music lessons for kids online program, which is quite efficient and affordable. We offer all the lessons, activities, materials, and necessary support that your child requires to take them from playing basic piano tunes to playing professional songs. At PianoKids, we have the necessary resources and knowledge to run a music homeschool program that is tailor-made for your little one. Our curriculum includes:
*Lesson Book: Now, this is the foundation of our entire program. We at PianoKids take a unique approach that's sure to make playing the piano fun as well as informative. Our book features interactive piano lessons and has a collection of music your kid will genuinely love!
*Funtivity Book: The Funtivity book is exactly what it sounds like – an activity book filled with fun. Our 'Funtivity' book is very interactive and will assist both your child and you to feel comfortable while playing the piano. The attention span of a child is very short, and learning to work with that timeframe is key.
When you notice your kid is losing concentration at the keyboard, that is when the Funtivity book comes into play. There are a lot of activities in there that are sure to excite your child. They include flashcards, coloring books, stories, drawings, and tracings related to music lesson book songs. It generally acts as the go-between of having fun and motivation. And when your child is having a blast doing something, they will grow to love it.
*Fabric Pouch With Markers and Crayons: Our package also features a custom-made pouch with five crayons and markers in piano keys colors to make lessons easy and enjoyable to the kids. I know what you're thinking, the markers are totally washable plus they smell pretty nice too!
* Calendar/Sticker Booklet: This creatively themed calendar booklet is something that your youngster will definitely love. It comes with exciting coordinating stickers which they will use to mark their piano practice schedule. It's an excellent visual way to indicate that practice will only make perfect. The more stickers on the calendar you have, the more songs the child has sung and/or played. What's more, when your kid posts the practice stickers on our online studio, they will be eligible to receive a prize that will be mailed straight to their doorstep.
* Online Resources & Lesson Plans: Our website comes filled with a host of interactive resources, including video lessons, a virtual piano teacher, music games, pop up surprises, and other reward activities. The online piano teacher will provide hints for every lesson in the curriculum to make things a bit easier for the kids. Learning to play the piano with us at Pianokids has never been so exciting.
After you've enrolled your child in Pianokids, they should expect to get an exciting package via mail. The package features his or her Pianokids piano bag assorted with essentials they need to begin the program. Before you know it, they will be playing the piano! Remember that your kid needs to Practice!Practice!Practice! Enroll your kid today!